Ever feel like this cat right here might be your spirit animal? Well yes, ours too!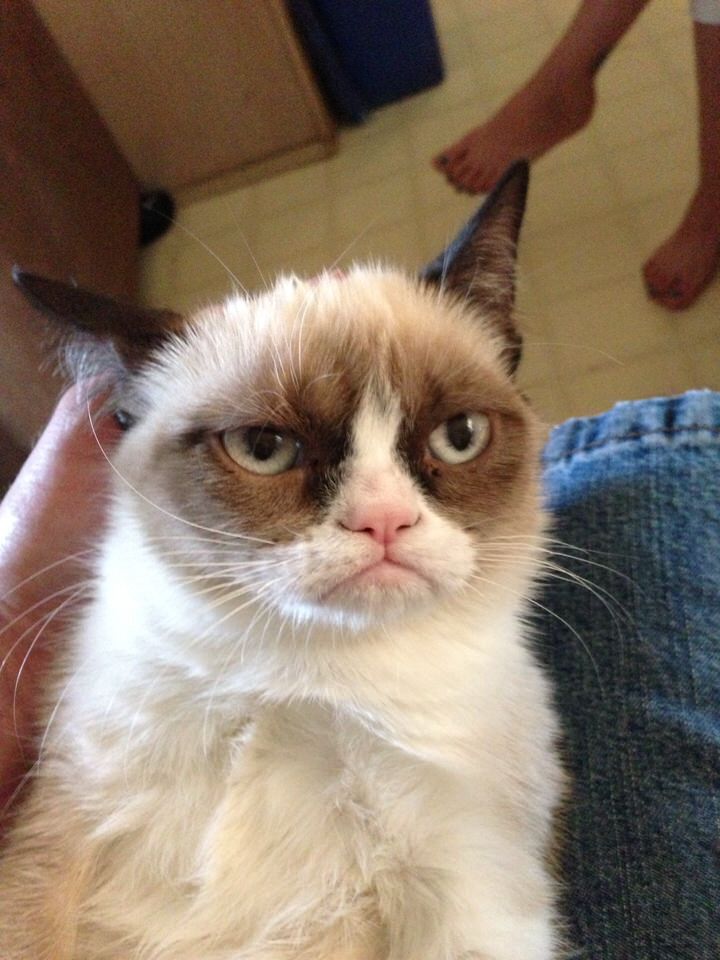 We're going to tell you a bit about how this infamous cat has conquered the world, with a face that is incredibly GRUMPY, but we can't help but find adorable and also very much sympathise with!
Grumpy Cat (left) became an international sensation after her hoomans put up a video that went viral. The world fell in love with Tardar Sauce (Grumpy Cat's real name) due to her unusual facial characteristics which is down to a form of dwarfism, also aligned with the displacement of teeth in her mouth which resembles many of us on a day-to-day basis! Due to her unusual looks and tongue in cheek memes populating the web, Tardar Sauce lives a very busy life and is loved by an avid social media following of over 8 million!!
You'd be very pleased to know that Grumpy Cat can finally be a part of your furry friend's life too! Zooplus have launched their very own Grumpy Cat Toy range that your cat will go wild for! Why not spread the Christmas cheer just as Grumpy Cat does(!), by treating your cat to our favourite feline friend, including it being dressed up as a snowman or a reindeer – see below!
(1) Grumpy Cat Plush Snowman: Was £4.99 Now £2.99
(2) Grumpy Cat Reindeer Ball: Was £3.99 Now £2.49
Or how about some of these Grumpy Cat dangler toys, that will appeal to your cats natural instincts!
(3) 
This Grumpy Cat Peppermint PomPom Cat Dangler offers the perfect interactive play between you and your cat, awakening all their senses, training their speed and agility. Even the slightest movement of this toy will drive your cat wild so why not treat them this Christmas to a Santa Claus, Grumpy Cat Dangler! Very festive indeed!
Was £5.99 Now £3.99
(4) Your cat will simply LOVE this Grumpy Cat Catnip Sock which will send them into heaven with the stimulating aroma of catnip. The irresistible smell is particularly appealing and will encourage them to play. There is also crackling foil inside the sock for highly active play, and 2 small jingle bells to animate your cat's natural hunting and playing instincts.
Was £4.99 Now £3.99
(5) Get your cat's heart beating faster with this Grumpy Cat Annoying Plush Cat Dangler! This toy is particularly enticing thanks to the baubles on the end of the line, which dance wildly around making different sounds to really drive your cat crazy! The durable material of these Grumpy Cat Toys ensures long-lasting fun and entertainment.
Was £5.99 Now £3.99
So, do you want to make your cat's Christmas special this year? Then search no further! With unbeatable low prices and endless hours of fun, your kitty will adore their brand new Grumpy Cat Toys & love you more than ever!
Merry Christmas!!
With love from zooplus! 🎄🎅