Dog Overall Long II is perfect for dog breeds that are sensitive to cold temperatures and mud from the winter streets, and for dogs that are used to the cosy indoors – especially breeds with thin undercoats and senior dogs. Dog Overall Long II will keep your doggy warm and comfy in all weathers with the longer leg coverage.
Buy the Doggy Overall today from £11.99 ► http://ow.ly/Y3YQr
Breathable material with fleece lining provides cosy warmth and ensures ventilation. A light-weight, water resistant surface gives protection from rain and dirt. Dog Overall Long II is a loose cut with drawstrings, letting you fit the coat to your individual dog's size. Cuffs at the legs ensure the overall does not slip and your dog's whole body is protected against dampness and dirt. At last, an end to laborious bathing procedures after every walk!
Dog Overall Long II is functional outdoor gear that will stand up to the muddiest, wettest conditions, for long, enjoyable walks in all weathers.
Dog Overall Long II at a glance:
Colour: olive/black
Material surface: 100% nylon
Material lining: 100% polyester (fleece)
Wind, water and dirt resistant
Soft and light-weight
With long legs for optimal protection
Soft comfort cuffs
Perfect comfort and freedom to move
Soft and warm fleece lining
Breathable and moisture-regulating
Stays in shape
Drawstrings with stoppers on neck and belly for individual adjustment
Reflector strips on both sides
Washable at 30°C
Size table Dog Overall Long II:
Back length (A)
Zip length
Neck circumference (B)
variable with drawstring
Chest circumference (C)
Leg length (D1/D2)
front/back
Total length (E)
30cm
approx. 20 – 32 cm
approx. 50cm
approx. 26.5cm / 24.5cm
approx. 42cm
35cm
approx. 22 – 34 cm
approx. 59cm
approx. 32cm / 30cm
approx. 50cm
40cm
approx. 24 – 36 cm
approx. 68cm
approx. 35.5cm / 35cm
approx. 58cm
45cm
approx. 28 – 44 cm
approx. 73cm
approx. 40.5cm / 37.5cm
approx. 65cm
50cm
approx. 30 – 50 cm
approx. 84cm
approx. 47.5cm / 44.5cm
approx. 70cm
55cm
approx. 32 – 51 cm
approx. 88cm
approx. 50cm / 46.5cm
approx. 80cm
60cm
approx. 34 – 55 cm
approx. 90cm
approx. 52cm / 49.5cm
approx. 83cm
65cm
approx. 36 – 58 cm
approx. 96cm
approx. 56cm / 53cm
approx. 90cm
70cm
approx. 38 – 60 cm
approx. 98cm
approx. 59cm / 56.5cm
approx. 95cm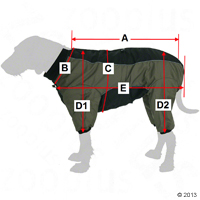 (A) Measure back length from the lowest point on the base of the neck to the tail head.
(B) Measure neck circumference at the lowest point on the base of the neck.
(C) Measure chest circumference immediately behind your dog's front legs.
(D1/D2) Measure leg length straight down from the middle of the back to the paws.
(E) Measure total length from the front chest to the end of your dog's body.
Size note: Our dog model in the diagram is a Hungarian Magyar Vizsla wearing a size 55.
Buy the Doggy Overall today from £11.99 ► http://ow.ly/Y3YQr
Customer reviews: